Chapter 1
Our Mann Family
In


Germany

Johann Mann
of
Lossau, Oberfranken, Bavaria, Germany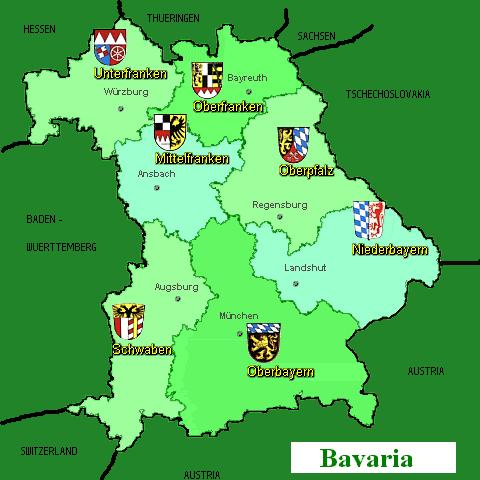 Johann MANN, born 4 Oct 1754, Losau, Kronach, Oberfranken, Bavaria (Bayern), Germany, son of Hans and Margaretha MANN.
Johann married Elisabetha (KLAUS?). She was born 10 Feb 1752.
Johann was a farmer in Losau, Kronach, Oberfranken, Bavaria, Germany.

Children of Johann and Elisabetha (KLAUS) MANN:

1. Hanns MANN, born 1777, Losau, Kronach, Oberfranken, Bavaria (Bayern), Germany.

2. Margaretha MANN, born 5 Jan 1778, Losau, Kronach, Oberfranken, Bavaria (Bayern), Germany.

3. Lorentz MANN, born 30 May 1780, Losau, Kronach, Oberfranken, Bavaria (Bayern), Germany.

4. Margaretha Barbara MANN, born 18 Jan 1782, Losau, Kronach, Oberfranken, Bavaria (Bayern), Germany.

5. Hanns MANN, born 12 Nov 1784, Losau, Kronach, Oberfranken, Bavaria (Bayern), Germany.

6. Katarina MANN, born 19 Feb 1787, Losau, Kronach, Oberfranken, Bavaria (Bayern), Germany.

7. Adolf MANN, born 12 May 1790, Losau, Kronach, Oberfranken, Bavaria (Bayern), Germany.

8. George MANN, born 29 Oct 1795, Prebitz, Bayreuth, Oberfranken, Bavaria (Bayern), Germany.
George married Margaretha Magdalena KUFFNER.
(See Chapter 2)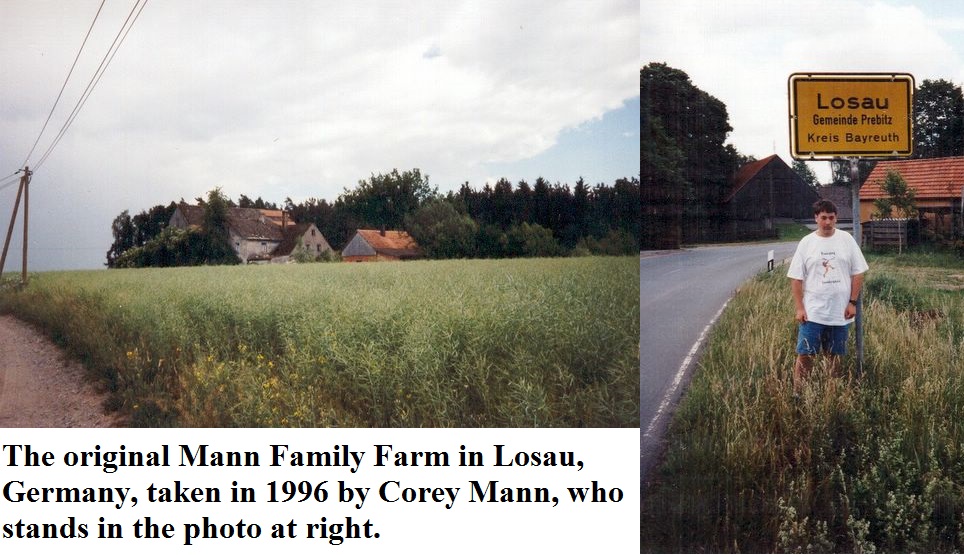 Kings of Prussia (Germany)
FREDERICK I. KING OF PRUSSIA (1701-171). -also Frederick III of Brandenburg. Born 11 Jul 1657. Konigsberg & died 25 Feb 171), Berlin.
FREDERICK WILLIAM I. KING OF PRUSSIA (171)-1740), -Born 1688, Berlin & died 1740. Potsdam. Son of Frederick I.
FREDERICK II. KING OF PRUSSIA (1740-1786), -Called Frederick the Great. Born 1712 & died 1786. Sans Souci. Son of Frederick William I.
FREDERICK WILLIAM II. KING OF PRUSSIA (1786-1797), -Born 1744 & died 1797. Son of Prince August William, brother of King Frederick II.
FREDERICK WILLIAM III. KING OF PRUSSIA (1797-1840), -Born 1770 & died 1840. Son of Frederick William II.
FREDERICK WILLIAM IV. KING OF PRUSSIA (1840-1861), -Born 1795 & died 1861. Son of Frederick William III. (Note: He was king of Prussia at the time that our Mann family moved to the United States of America.)



Chaper 2
George Mann to America
Chapter 3
Andrew Mann Family Family of Spencer County, Indiana
Chapter 4
John Mann Family of Shattuc, Clinton County, Illinois
The August George Martin Leistner Family
Stephen's Genealogy Home Page

stephenfrakes@yahoo.com
Compiled by:
Stephen P.H. Frakes
321 South Franklin Street
Salem, Illinois 62881-2120

(Great-Great-Grandson of Margaretha Mary "Margaret" (Leistner)(Mann) Maier)
(Great-Grandson of Anna (Maier) Merten)
(Grandson of Beatrice M. J. (Merten) Frakes)
(Son of Philip Howard Frakes)
This Web page was started: 23 October 2007

Last Update:
12 March 2017

Copyright © 2006-2017 stephenfrakes All Rights Reserved.





I don't put the ads on this page. So don't think I am endorsing them.
They may be perfectly fine, but as they change, I don't check them all.