The Merten Family


of
Westerkappeln, Tecklenburg, North Rhine-Westphalia


Prussia (Germany)


Chapter 1
Johan Friederich Merten
&
Anna Elsa (Bremers) Merten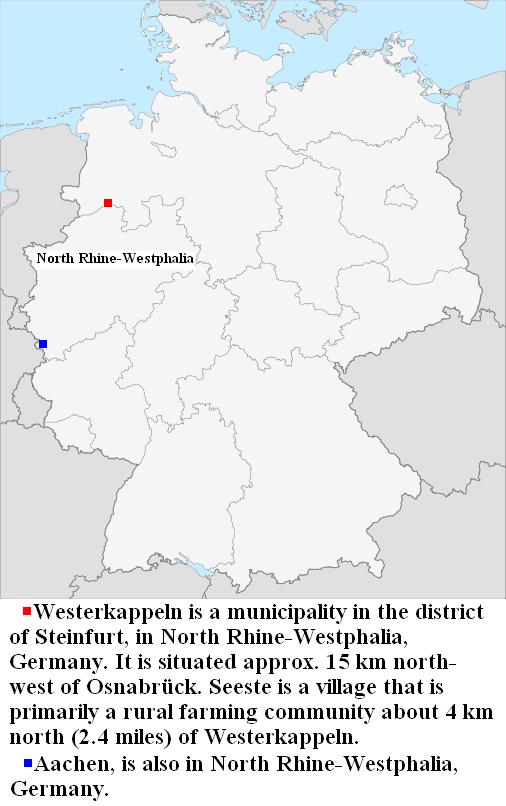 Johan Friederich MERTEN, born 7 Dec 1733, Westerkappeln, Tecklenburg, North Rhine-Westphalia, Prussia (Westerkappeln, Tecklenburg, Nordrhein-Westfalen, Deutschland). John died 2 Mar 1815, Westerkappeln, Tecklenburg, North Rhine-Westphalia, Prussia. Burial 4 Mar 1815, Westerkappeln, Tecklenburg, North Rhine-Westphalia, Prussia.
Johan married Anna Elsa BREMERS 3 Feb 1760, Evangelische Kirche (Evangelical Church), Westerkappeln, Tecklenburg, North Rhine-Westphalia, Prussia (Germany). She was born 23 Jul 1741, Westerkappeln, Tecklenburg, North Rhine-Westphalia, Prussia (Germany). Anna died 10 Jan 1807, Westerkappeln, Tecklenburg, North Rhine-Westphalia, Prussia. Burial 12 Jan 1807, Westerkappeln, Tecklenburg, North Rhine-Westphalia, Prussia.

Johan Friederich and Anna Elsa (BREMERS) MERTEN:

1. John Heinrich MERTEN, born 20 Sep 1761, Westerkappeln, Tecklenburg, North Rhine-Westphalia, Prussia. John died 23 Oct 1761, Westerkappeln, Tecklenburg, North Rhine-Westphalia, Prussia.

2. John Heinrich MERTEN, born 1 Apr 1763, Westerkappeln, Tecklenburg, North Rhine-Westphalia, Prussia.

3. Herman Heinrich MERTEN, Sr., born 1 Jul 1766, Westerkappeln, Tecklenburg, North Rhine-Westphalia, Prussia. He was christened 4 Jul 1766, Evangelical Church, Westerkappeln, Tecklenburg, North Rhine-Westphalia, Prussia.
Herman married Catherina Elizabetha WAHLBRINK 25 Apr 1792, Evangelical Church, Westerkappeln, Tecklenburg, North Rhine-Westphalia, Prussia. She was born 12 Apr 1761, Westerkappeln, Tecklenburg, North Rhine-Westphalia, Prussia.
(See Herman Heinrich Merten, Sr.-Chapter 2)

4. Catharina Elsabein MERTEN, born 27 Aug 1769, Westerkappeln, Tecklenburg, North Rhine-Westphalia, Prussia.
Elsabein married Stephen Heinrich HACKMANN.
(See #4 following)

5. Catharina Margaretha MERTEN, born 8 Apr 1773, Westerkappeln, Tecklenburg, North Rhine-Westphalia, Prussia.
Margaretha married 1st Jörgen Heinrich PIEPER.
(See #5 following)

6. Anna Catherine MERTEN, born 4 Aug 1776, Westerkappeln, Tecklenburg, North Rhine-Westphalia, Prussia.
Anna married Johan Heinrich LANGE.
(See #6 following)

7. Stephen Heinrich MERTEN, born 1 Aug 1779, Westerkappeln, Tecklenburg, North Rhine-Westphalia, Prussia.

8. John Herman MERTEN, born 2 May 1784, Westerkappeln, Tecklenburg, North Rhine-Westphalia, Prussia.
John married 1st Maria Elizabeth KOENIG.
John married 2nd Anna Maria Kärthmeyer.
(See #8 following)

---
---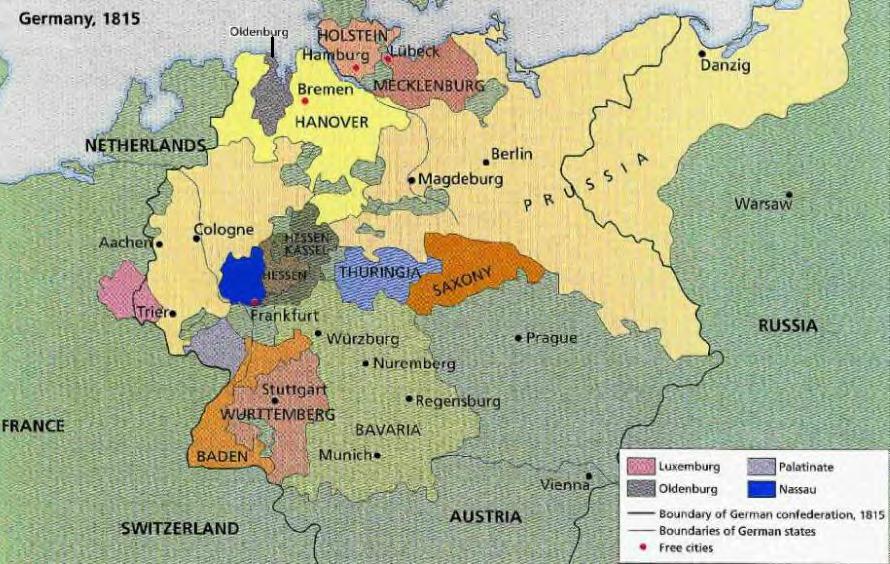 ---
--- I have much more to add to this web page.
I will make the additions when I have time,
So please check back later.
Link
Index Page for My
Merten-Maier-Mann-Hanke Families

Compiled by:
(5-Greats-Grandson of Herman Heinrich Merten, Sr.)

Stephen P.H. Frakes
321 South Franklin Street
Salem, Illinois 62881-2120

stephenfrakes@yahoo.com

Additions and Corrections Greatly Appreciated


Updated:
12 March 2017

Copyright © 2004-2017 stephenfrakes All rights reserved.