Welcome to Meridan Township
Clinton County, Illinois
vvvvvvvvvvvvvvvvvvvvv
Meridian Township
Clinton County, Illinois
by
Fannie Mann
Written in 1959
The following pages are intended to present a short survey, tracing the founding of our village from its earliest inception to present time. In case of errors in dates and facts or failure to mention some who had a part in making this early history, it is due to inadequate records and much is based on memories of senior citizens, to whom we are indebted and grateful for their help.
We hope all readers will take pleasure in memories of early days of our village and will take pride and be prompted to help the younger generation make it one of the brightest spots on the map of the good old U.S.A. in which to live and continue to make History for posterity.
Before going into the history of Shattuc, we think it best to give some early data of the township and reasons for the early settler' decision on the site of the first town soon to become their trade center. "Meridian Township" was so named because the Third Principal Meridian passed through the eastern part of its territory, it contains thirty-six full sections.
It had some of the finest prairie land in southern Illinois. More than any township in the County, most of its area was prairie so it was Grand Prairie, this was the reason for it being one of the last settled sections of Clinton County. Most settlers wished to settle near timber thinking prairie land was of little value. They were mistaken about that idea and there was a great influx of new settlers when they found the possibilities of the fertile prairie.
Near the center of the precinct "Cohen's Mound" known now as "Nicolay Mound," lifted its gently sloping sides above the prairie land and challenged the admiration of the beholders with Marion County to the east, Kaskaskia River to the west, East Fork to the north and Crooked Creek to the South, all helped to make the view from the summit of this mound both grand and beautiful with all surfaces susceptible to cultivation and when improved would take its place in the county in number of cultivated acres and wealth of its farming population.
In 1818, Isaac and James HUGHSON, brothers, came from New York and built a double log house on Cohen's Mound to use as a hotel for state coach travelers. This was also on the Vandalia Mail route.
It was from Mr. COHEN of RAY and COHEN tavern keepers, that the mound received its name. In 1836, Mr. Thomas RAY of Ohio became sole owner of this farm, purchasing it from the HUGHSON brothers. The house was later destroyed by fire.
From 1850 to 1860, there was an increase of settlement and improvement of land. Rubsummer STEIN and Oswald HEINZMANN improves Section 16. William H. RUSSELL improved Section 15 and part of Section 10. He had one of the model farms of the county. His farming interests were grain and stock. He was the first to import blooded stock. Mr. William JOHNSON also imported several blooded horses from France.
The RUSSELL home later became the home of Mr. and Mrs. Peter ANDERSON. Mr. ANDERSON emigrated from Denmark. At present, this farm is the home of Mr. and Mrs. JENSEN and family.
Acreage of this farm south of Highway 50 is now the site of the homes of Mr. and Mrs. Ben SWAGLER and their sons, Mr. and Mrs. Lewis SWAGLER and family and Mr. and Mrs. Edgar SWAGLER.
William H. RUSSELL, in 1876, planned and laid out a town in the center of the township on the Ohio and Mississippi Railroad and on the west side of Lost Creek and named it "Lost Creek." It contained one store, kept by RUSSELLl and BONER, two haypresses and barns, a flour mill, a post office and a blacksmith shop.
These haypresses were stationary in large barns operated by horse power, hay being hauled in by farmers, pressed into large bales weighing from three to five hundred pounds then loaded into rail cars and shipped.
John D. PRICE was one of the first recorded hay dealers, he was a leather glove maker and shop keeper in Cincinnati. He came here by stage coach in 1857, bought some land, returned to Cincinnati and in 1861 returned with his family traveling on the Ohio and Mississippi Railroad.
Later a more modern horse power baler was introduced by Albert TREFFERT, also a hay and grain dealer. He represented the WHITMAN Agriculture Company of St. Louis and was sent to Europe to demonstrate it. He had the privilege of demonstrating before royalty in Germany. While he was in Europe, his wife and little son, Frank, were killed by a mail train hitting their buggy at the west B & O crossing. He later returned to his farm life and his hobby was cultivating rare flowers and plants. His country home with its fancy wind mill, pond filled with lilies, many rare flowers in bloom was like a park and a favorite spot for the villagers Sunday afternoon.
Mr. TREFFERT was born in Germany and came with his father in 1863 to this farm north of town which was his home until his death in 1916. It is not the home of Mr. and Mrs. Fred KOELMEL, the present Supervisor.
Mr. TREFFERT built the first ice house on the north bank of Lost Creek. Mr. Herman WIEDLE also used this ice house and stored enough ice to cool milk for into the summer. Ice cream, manufactured or home made, was a rare delicacy served only on special occasions, especially Fourth of July, the ice house was a very popular place on that day.
(Note: Albert Gustav TREFFERT's first wife was Mary ___?___, who was born in Wisconsin. Besides son Frank, who died in buggy with Mary, there were children Amelia, William and Edward "Eddie". After Mary was killed by the train, Albert remarried to Magdalena "Lena" HEINZMANN 1891. They had a daughter, Linda. Albert came to America in 1852 from Germany.SF)
The first blacksmith shop was owned and operated by Mr. ABEL who sold to Mr. HOPFINGER. In 1885, John MANN, a young blacksmith from Santa Claus, Indiana on his way west to seek a fortune happened into the HOPFINGER shop and was hired. Later Mr. HOPFINGER wished to move to Sandoval so John MANN purchased the shop. When the new RUSSELL addition was laid out Mr. MANN bought the first house built there from Mr. MOSSGEYER and built his new blacksmith shop adjacent to it on the north and continued to be the village Blacksmith until his death in 1930. In 1926, his son Asa replaced the old shop with a modern garage building and continued as blacksmith and mechanic to meet the needs of the new motor age for which he had taken a course of training. He handled tractors, all kinds of farm machinery and was Studebaker agent for many years until his retirement in 1950. He leased his property to Charles CURDT and Ernest FRUEND who are the present operators.
(Note: Mr. John HOPFINGER was from Austria. His wife, Walberga ___?___ was from Baden, Germany. They had sons John, Joseph, Peter H., Conrad and Valentine.SF)
(Note: The MANN genealogy is in the file section of the Shattuc Yahoo Group. Press here to go to the Shattuc Yahoo Group SF)
Every town has its beautiful character, here it was Aunt Martha BASS, one of the first settlers, friend to all, especially the children. She followed the custom of southern women, smoking her clay pipe, which was a novelty.
(Note: Martha BASS was born Feb 1834, South Carolina. She had one son, Julius BASS.SF)
The village of Shattuc is situated on the south half of Southwest Quarter of Section 15 in Meridian Township. June, 1854, the state of Illinois, under J. A. MATTESON, Governor, deeded this plot of ground to Champness BALL, who in July, 1854, transferred it to Christopher H. OUTMAN, who in August, 1859, transferred it to Ralph SELLEW who bequeathed it to his nephew, Timothy G. SELLEW. June, 1884, he transferred it to Anna E. and William H. RUSSELL, her husband and in September, 1884, the village was surveyed and laid out in lots north of the Baltimore and Ohio Railroad. Mr. RUSSELL died before plans were completed so it was finished under the direction of Mrs. RUSSELL.
The town "Lost Creek" became Shattuc December 18, 1884. It was named for conductor Shattuc of the B & O Railroad. Postal records in Washington D. C. do not show that the office was ever known as Jones Station.
The first post office was established February 3, 1874 and the first postmaster appointed was Daniel F. BATES with a salary of $32.39. Ten years later the salary was raised to $51.80.
Water being required by the steam engines, the railroad company erected water tanks at best locations from Cincinnati to St. Louis and Lost Creek was one of them. The first water pump was a tread mill powered by the old gray mare. Mr. JONES was the first pumper hence the name Jones Station or Tank Town. When power replaced the tread mill, James FORREST became pumper, later aided by his son Ed, and they continued as long as the tank was used. Mr. FORREST served as second postmaster from February 24, 1876 to June 20, 1876.
This being the intersection of the Ohio and Mississippi and Jacksonville and St. Louis Railroads, there became a need for an agent to handle traffic and freight, so a depot was built on the northwest area of the crossing. The first depot was a two story frame building with living quarters on second floor for the agent and family. Otto BLACK and family were among the first to occupy this apartment.


The Mill
History certainly repeated itself in the HOGAN family. The first Mr. HOGAN's home and grist mill were burned by the British on King's Mountain in North Carolina in the American Revolution. He was captured and later died from scurvy in the brig of a British-Man-Of-War. His son Roland and two brothers fled to the wilderness in western Tennessee for security and made new homes and a new mill. During the Civil War they again lost their homes and mill near Fort Donaldson on the Cumberland River when General Grant's forces invaded there. When hostilities ceased, many migrated to the west crossed the Ohio River into Illinois, seeking new homes.
In the fall, when a group halted by a blizzard near Odin, Illinois, the company dispersed. HOGAN's, Mr. and Mrs. WILLIAM and their sons John and Ed went to Walnut Hill for temporary quarters.
Mr. HOGAN still had grist mill on his mind and hearing of the Ohio and Mississippi Railroad giving service from Cincinnati to St. Louis and of Jones Station where there was a suitable stream and wheat raised there abouts, he located on the south bank of Lost Creek. A dam was made and the Mill Pond became a favorite fishing spot and the old swimming hole. After all his efforts to realize his dream, Mr. HOGAN wasn't to enjoy it long. He succumbed to pneumonia 1886.
Undaunted, his widow, with her sons John and Ed and little daughter Ella, decided to carry on. Several years later the mill was refurbished and became the first steel roller mill in this area, in fact one of the few in the country. Millers from far and near came to Shattuc to examine the machinery in the new revolution of the flour milling business. J. Rollin SMITH, a native of Tennessee, came in 1896 and was employed as miller. When the mill was disbanded, Mr. SMITH aided in the sale of the building and machinery. Mr. SMITH still enjoys reminiscence of the good old days, he was ninety years old January, 1959.
(Note: Henry and Cordelia HOGAN were already living in Meridian Township and working on the mill in 1880. Edward HOGAN, married Amy and they had son Henry. John HOGAN married Effie and they had children Percyville, Archibald, Gladys, and Alma Gertrude and one child died before 1900. J. Rollin SMITH was married to Eva Frances and they had a son Edgar Price.SF)


The Creamery
Increase of cattle raising demanded a way to marked milk. The farmers began to ship milk individually to St. Louis; it wasn't successful, so much milk was sour when it reached the market. A creamery was built in 1896 near the flour mill, south of the track. For a while the milk was separated and the cream ws taken to Carlyle to be made into butter and skimmed milk returned to farmers. In 1898, Herman WIEDEL took over the creamery and persuaded the farmer to sell whole milk. The milk business increased so in volume a new building was needed, so it was built north of the track on the site of the present lumber yard.
An unsuccessful pasteurizing system was installed in 1905 and soon discontinued. An average of one hundred ten-gallon cans of milk was shipped daily. After Mr. WIEDLE's death in 1912 his widow Cora NICHOLS WIEDLE continued the business with the help of Frank SCHAUBERT and her sons.


The Elevator
LICHTY and STEINER of Sandoval built an office building and a hay barn in the new RUSSELL addition north of the depot. The Jacksonville and Southeastern later Burlington and Quincy was built in 1883, crossed the Ohio and Mississippi, which was built in 1855, here making this an ideal site for grain shipping.
In 1897, Gustav HAHN of Cullom, formerly from Germany, bought this business and throughout the years improved and added to it until its present capacity is 60,000 bushels of grain. It is not operated by Earl HAHN.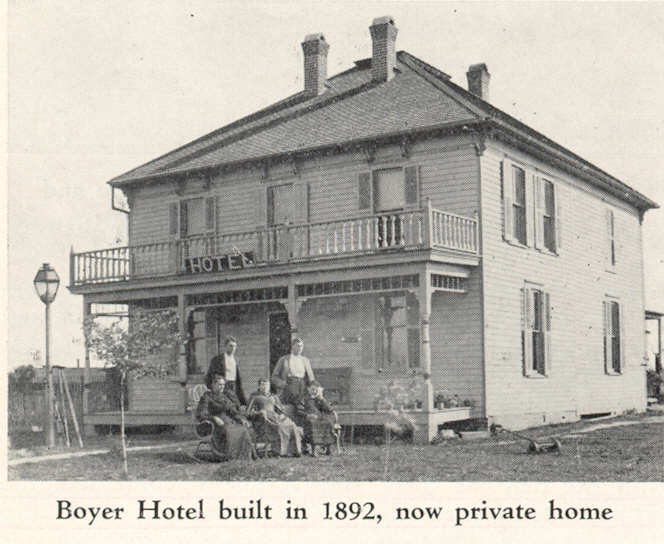 The Hotel
The first hotel was built and operated by Mr. and Mrs. O'CONNEL. It was later purchased by Henry BOYER and was in the process of being remodeled and added to at the time of his death August 5, 1893. His wodow, Mrs. Anna BOYER, operated it as long as her health permitted. The building is now owned by Mrs. A. D. NIGHWANDER the youngest child of Mr. and Mrs. BOYER, and used as a rent house.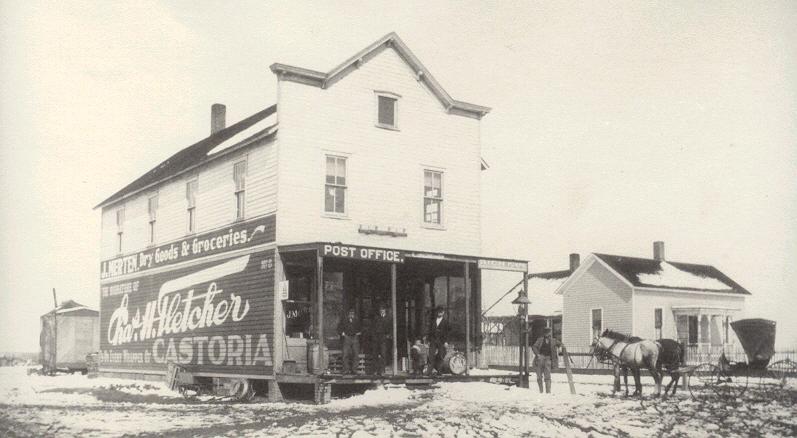 General Stores
In 1887, Julius, son of Mr. and Mrs. Edward MERTEN, left his farm home to become a clerk in Henry BOYER's store and later to become a leading business man. Julius built a two story building west of the creek. He also had the first lumber yard. He became postmaster from 1893 to 1897. He was the school treasurer, treasurer of the Odd Fellow and Modern Woodman Lodges. The second floor of his building was the meeting place of these lodges and was in reality the community center. The lots on which these buildings were built and his home are now owned by Miss Dena WEDEKEMPER.
In 1909, Mr. MERTEN and family moved to Salem. O. C. KEISTER and Fred WOLLENWEBER purchased the merchandise of Julius MERTEN and conducted the store as WOLLENWEBER and KEISTER until 1912, when Mr. KEISTER became sole owner and continued in business there until 1913 when he moved his stock to the new building he had built west of the depot. The Post Office was located in this building from 1914 to 1922 while Mrs. KEISTER was Postmistress. After Mr. KEISTER's retirement ADAMS and HOFFMAN operated the store until Mr. HOFFMAN took over his duties as our present Postmaster and Mr. ADAMS was employed at the state farm at Vandalia.
The building is now used as a warehouse for farm machinery by CURDT and FRUEND.
(Note: You can visit the Merten Family Genealogy Web Site at: Julius Merten Family It also has links to Julius' father, Edward MERTEN Family; Edward's brother, Abraham Herman Heinrich MERTEN Family; and their father Herman Heinrich MERTEN Family. SF)


The Church
With the coming of more settlers and increase of populaton a need from spiritual guidance and growth was felt and this led to devotional meetings in homes. Later when schools were built services were held there. Bowman and Shadyside were the first to have such meetings. When Sunnyside was built south of Shattuc it was a more central location and services were discontinued at the other schools and moved here. Worshippers being of different faiths the meetings were non-denominational, the Sunday School was a union one known as "Loyal Sunday School Army of American."
The Huey charge was organized in 1867 and Shattuc later became part of it and was served by ministers of Huey. Two of the first recorded were Rev. Samuel WALKER and Rev. J. S. SPROUL. Rev. SPROUL who came to the church in 1889, when meetings were now being held in the town hall, saw the need of a church building and started circulating a subscription list. Rev. WALTON of Lebanon came to the charge in 1892. He completed the subscription and work on the church building began in 1892 and completed in early summer of 1893. Mr. Edward BODLEY a skilled carpenter and ship builder assisted by Mr. George GULLICK directed the building and work of other members helping by donating labor. The Church was dedicated August, 1893 by Bishop BOWMAN.
The site of the church was east of the town hall and south of the mill. It was reached by the town fold by means of a foot bridge across the creek. There were 30 members on roll in 1894 and at present Mrs. Effie HOGAN of Flora is the only known survivor.


School
The first school was built of logs on Section six in 1836. John NICHOLS was the first teacher. More settlers in "Lost Creek" area meant a school was needed so "Russell" school was built on the Russell farm, this location is now the home of Carl TREFERT. In 18__, the district was divided and a school was built in Shattuc in the Russell addition. It was destroyed by fire in 1922 and rebuilt the same year. This building is now a warehouse for BEHREN's Furniture Store.
In July 1948, there was a consolidation of schools and Unit 1 of Clinton County was formed. A new elementary school, Prairie View, was built on the Boulder Road in 1954. Children are transported by bus. Junior High and High School students attend in Carlyle.


Other Businesses and Interests
The Shattuc Lumber Company was organized March 1, 1913. It was owned and operated by M. M. JENSEN until he retired March, 1946. He operated a concrete block business in connection with the lumber yard.
Hugh JENSEN, nephew of M. M. JENSEN, took over the business at the time of his uncle's retirement and is at present owner and operator of the Shattuc Lumber Company.
In early 1900 Shattuc had its first and last photo gallery when John CRAWFORD and son drove into town in their mobile photo gallery an advance model of the present mobile trailer home, namely a house on a horse drawn wagon, it was located on the Julius MERTEN property. While in business here Mr. CRAWFORD was working on a house boat photo gallery and one day left our village, launched his boat on the Kaskaskia River and went sailing away to conquer new fields and photograph new faces. Crawford pictures are still in some local albums.
The first Brass Band was organized in 1883. George GASSLER of Bowman was the instructor. The old town hall was full of both sweet and sour notes during practice sessions. They had a specially built band wagon, gaily painted, drawn by four spirited horses decked in fancy harness and colored plumes at the bridle. They were a part of all the political parades, they also played fro picnics, weddings and dances.
Only surviving members of this band are Edward and Ben SWAGLER of Shattuc and Joseph SPEISER of St. Louis.
The first doctor was Dr. Noah Hoyt SCOTT of England. He purchased land on Grand Prairie for his retirement years, he treated emergencies only. Dr. Samuel H. WILCOX, graduate of Missouri Medical College, now Washington University of St. Louis, came in 1890. He married Miss Lulu GODDARD of Huey in 1893. In 1910, Dr. and Mrs. WILCOX and their four children moved to Carlyle, where he practiced until his death in 1936.
Dr. Orville O'NEAL and family of McLeansboro came here in 1910. He served in World War 1 and after his discharge, the O'NEAL'S moved to Rippon, Wisconsin in 1919, where he practiced until his death. The Doctor's property is now owned and occupied by Miss Ellen JENSEN.
Shattuc also had a veterinarian, Joseph SPEISER, who cared for the livestock over a large area. He was the owner of beautiful horses. His genial wife, Barbara HEINZMANN SPEISER, practical nurse, besides duties as mother and housewife was called to many homes to usher in the new born babe, to ease last moments of the dying, or care for those ill with fever and diseases of that time. Due to the distance to doctors, most of her duties were performed without the aid of a doctor.
Charles HULL of Salem owned the first telephone system, it was a line to places of business only. April 1, 1911, the Shattuc Farmers Mutual Telephone Company was organized with a membership of 40, they took over the Hull line. The first switch board was temporarily placed in the John MANN residence, later moved to WOLLENWEBER and KEISTER store. No night calls were available, this was a handicap for doctor calls so the board decided to move it to the residence of Mrs. Clara WEDEKEMPER as operator. In 1958 the Farmer's Mutual Company sold to the Marion Telephone Corporation of Sandoval and the dial system is now pending.


George MANN built and operated the MANN Furniture Store May, 1941. After his death, 1954, his wife with the help of their son Kenneth, continued the business until December 1955, when the stock and property were sold to R. E. BEHRENS who now operates it as BEHREN's Furniture The Golden Rule Store.



Post Masters of Shattuc

Records from the National Archives and Record Service of the Post Office Department of Washington D. C. give the complete list of Postmasters since the establishment as Lost Creek on February 3, 1874. Name changed to Shattuc December 18, 1884.

Daniel F. BATES - February 3, 1874
James FORREST - February 24, 1876
Robert DOUNE - June 20 1876
E. W. McCLELLAND - March 15, 1878
Albert ARROWSMITH - July 9, 1878
Richard POWER - September 10, 1879
William H. RUSSELL - January 11, 1881
Henry BOYER - December 26, 1884
Edward W. CLIFFORD - March 13, 1886
William H. RUSSELL - December 15, 1886
Henry BOYER - February 20, 1892
Chrisse H. NICOLAY - January 9, 1890
Fred WOODS - August 22, 1891
Henry BOYER - February 20 1892
Otto R. BLACK - August 24, 1893
Julius MERTEN - November 16, 1893
John L. NICOLAY - May 12, 1897
Isaac L. PATCHIN - December 22, 1900
Edwin C. BODLEY - June 20, 1901
Henry A. BARTLESMEYER - October 28 1907
Mrs. Essie V. KEISTER - July 11, 1914
Clemens W. HEINZMANN - June 22, 1922
Fred MANN - March 18, 1925
Henry HOFFMANN - June 29, 1948 to time of writing in 1959



vvvvvvvvvvvvvvvvvvvvv




After All These Years:
A History of Meridian Township
from Territorial Days
Compiled by
William Orrell, M.A.
1996





Table of Contents

The Land-------7
Landowners of 1892-------16
Flora & Fauna-------20
Early Life & Customs-------31
What in the World-------33
Land Patents-------41
1880 Census-------47
Farming-------67
Shattuc-------82
Ferrin-------88
Ferrin Picnic 1910-------92
Law & Order-------93
Politics-------107
Personal Property Assessment 1897-------114
Transportation & Roads-------116
Railroads of Meridian-------124
Daily Life-------137
Architecture-------142
Commerce 146
Photography-------152
Schools-------154
Events-------195
Peach Queen 1938-------196
St. Louis World's Fair 1904-------199
The Post Office -------201
Food-------204
Churches-------210
Cemeteries-------219
Telephones-------278
The Military-------281
Health-------286
Causes of Death 1883-------289
Organizations-------293
Celebrations-------298
The Twenties-------301
Meridian Farmers 1920-------302
Journal of Mrs. A. Terry-------217
Petition Against Sale of Alcohol-------322
Friendship-------325
Friendship Quilt-------330
Gone But Not Forgotten-------332
Families (List on the following)-------340
Bibliography-------694
Index-------695
About the Author-------700





Family Sketches of Meridian Township



Northwest Quarter
Beadle 351
Cashman 353
Conrad 355
Hartmann 359
Heinzmann, C. 362
Heinzmann, O. 367
Just, S. 372
Just, F. 380
Krost 383
Ladieu 393
Muench 395
Palm 398
Stein 400
Stokes 412
Treffert 416
Wedekemper 430
Wiedle 435

Southwest Quarter
Augustus 440
Bodley 442
Chambers 447
Cox 449
Defend 450
Faber 454
Gullick 457
Hansen 460
Jensen, P. 463
Johnson 467
Keister, A. 470
Keister, C. 472
Lampe 479
Merten 482
Patchin 485
Reinkensmeyer 488
Terry 490
Wollenweber 494

Northwest Quarter
Anderson 499
Bartels 502
Bartelsmeyer 510
Beaty 512
Behrens 515
Beltzhoover 516
Dorsett 518
Duis 520
Forrest 522
Geiger 525
Hahn 529
Heinrich 531
Hester 531
Hogan 537
Jensen, M. 546
Jensen, J. 550
Kramlich 556
Mann 564
Nicolay 568
Nighswander 571
O'Neal 572
Russell 575
Schaubert 582
Schlictmann 584
Smith 593
Speiser 595
Swagler 601
Ens 607
Thomas 612
Wedel 618
Wilcox 621

Southeast Quarter
Ahlf 627
Allen 631
Bowman 634
Boyer 635
Schmiedes 639
Carson 641
Conroy 645
Felton 648
Gray 652
Hoffmann 654
Karst 657
Keister, H. 661
Lippert 663
Noller 674
Price 681
Stevenson 686
Tunnicliff 688




vvvvvvvvvvvvvvvvvvvvv




You are welcome to join our
East Fork and Meridian Township
Yahoo Group:




Click to join MeridianTownshipAndEastForkTownshipClintonCoIL
Or just visit the group at:
Meridian and East Fork Townships Yahoo Group
The Meridian and East Fork Townships Yahoo Group has genealogies and many old photos of Shattuc, Illinois and many old pictures of some of the families of Meridian and East Fork Townships. There is a file section for histories and genealogies of East Fork and Meridian Townships. There are photo albums for you to place your own photos of your family. You can also place your own family genealogies in the file section.



Web Editor:


Stephen P.H. Frakes
321 South Franklin Street
Salem, Illinois 62881-2120

stephenfrakes@yahoo.com

Additions and Corrections Greatly Appreciated


Updated:
12 March 2017

Copyright © 2004-2017 stephenfrakes All rights reserved.